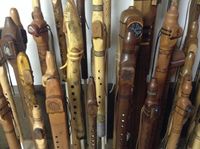 YELLOW BOOTS FLUTES
We are Randy and Janet French. Two people captured by the Power and Beauty of the Amazing Native American Flute. We have made our home in a small Mid Michigan village that is called New Lothrop. We make flutes in the style and in Honor of our Nations First People. My intentions are only to make the finest Native American Style Flute that I can. We are thankful that we are able to combine our love of music and art, and use our Heart and Hands in the crafting of these wonderful flutes. We have made many new friends because of this instrument, and for that we are forever humbly grateful.




Legends of Time
Graceful, Spiritual, Elegant and Timeless. All these words describe the Native American Art, Culture and Customs. We feature hundreds of Native American Artists, representing cultures from Alaska to South America.
Annett Rochelle Aben
Spiritual Coach ~ A Guide for Your Personal and Professional Life
Kawennano:ron'
Native Mowhawk from the Thayendanega (turtle Clan). Founder of Huron River Flute Circle
Frank Holes Jr.
Bordered by the depths of the Great Lakes and home to millions of acres of wilderness and untamed lands, Michigan has been inhabited by many strange and unusual creatures of myth. Some still roam the primeval forests, waterways, and long-deserted mines. MythMichigan explores this folklore of our great state.